Step aside paper bag princess, Ryerson University's eco-conscious fashion show leads with style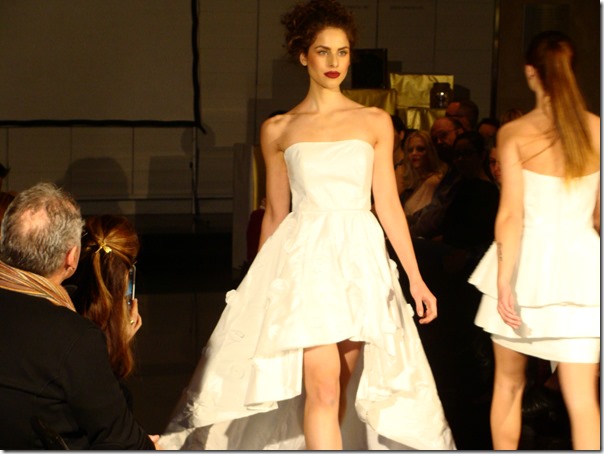 The paper bag princess was so 1990s. Make way for the plastic bag princess! Who knew that a plastic bag evening gown could look so glamorous? This piece by Stephanie Yiu was one of many highlights at Revolution 2014, Ryerson University's eco-conscious fashion show held on campus on Saturday, February 1st. The fashion show's mission was to educate new audiences on sustainable practices within the fashion industry and to provide a platform for emerging designers.
Before each designer's set, they were asked to describe their influence and the sustainable design technique that they used in creating their pieces. From "up-cycling" and "zero-waste," to literally using actual waste like plastic bags, the designs were as varied as the techniques applied. And just as the show's organizers had intended, the work demonstrated the aesthetic qualities of eco-fashion along with the idea that sustainable style need not look any less fabulous.
Organized by a small group of 2nd-year fashion and design students, their vision of a more sustainable fashion show took place behind the scenes too. Using Ryerson's recently published Sustainable Events Workbook (produced in partnership with Green Event Ninjas), they were able to identify a range of economic, social, and environmental issues that they could begin to improve upon. While some of the opportunities for improvement were realized this year – like reducing the number of pages in the program and sourcing macaroon's from an independently owned bakery – others were put on the back burner until next year's iteration. All proceeds from the event were donated to Enactus Ryerson's charity, Project Dago.
Overall, the event was an excellent example of the creative potential that exists when two disciplines like fashion and sustainability intersect. For more information about Revolution 2014, visit their Facebook page here.
Photo credit (in order): © James Watson, Green Event Ninjas.
Original news release was published here.
Receive our Ninja Wisdom
Always studying our craft, we ninjas are tirelessly writing about sustainable events. Join our mailing list and learn from us, young grasshopper!