Sustainable Event Tip #19 – Sustainable Trade Show Exhibits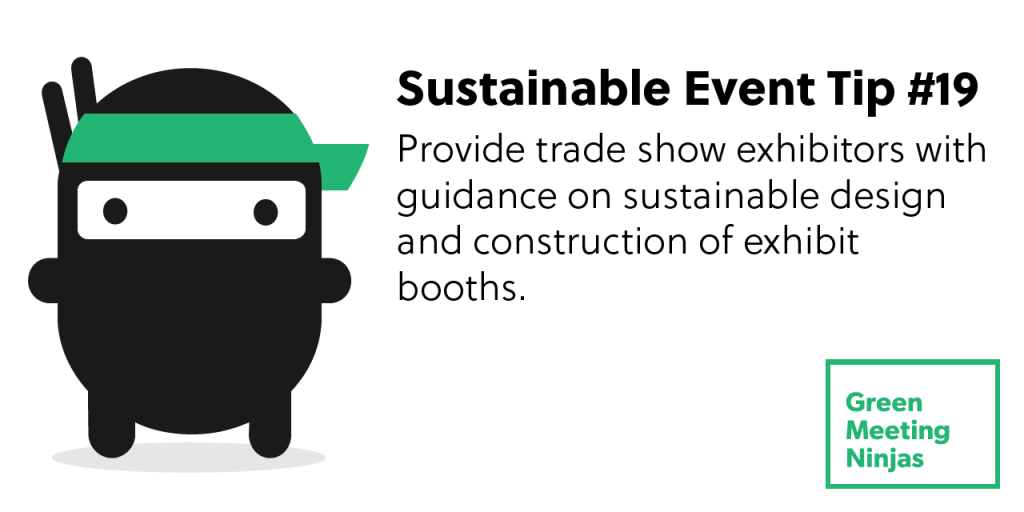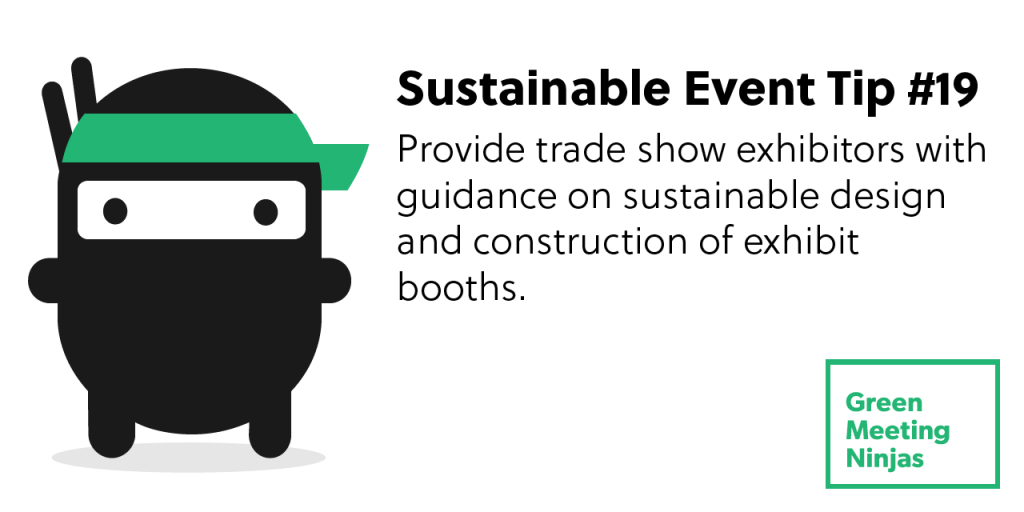 Attending a large trade show or convention nowadays is a sight to see. Exhibits are larger, bolder, and more creative than they've ever been and they can really come together for a great experience. These exhibits do, however, come with their own sustainability impact too, and that impact can be quite substantial.
As an event planner or venue manager, your ability to affect this impact is relatively small, short of imposing strict restrictions or sustainability standards. As an alternative, we encourage that you take more of an educational role by sharing information about the sustainable design and management of exhibits.
We will be giving more details in a future post, but as a starting point, here are some issues to consider when creating a more sustainable exhibit:
Materials Choice – Some materials are inherently more sustainable than others. Plastics like vinyl, for instance, are terrible yet still widely used in this application. Alternatively, soft wood lumber is significantly better. It's sourced from a renewable resource after all (trees!).
Source Locally – Just like in green building design, it's important to consider where you're sourcing your materials from. If you're building/exhibiting in Ontario, why not source Ontario Wood (lumber harvested from responsibly managed forests)?
Rentals – The sourcing locally tactic also applies to rentals. If you're exhibiting at an event on the other side of the country, surely there are some fixtures of your exhibit that can be rented locally (e.g. furniture, flooring, décor, etc.). Cut down on your shipping as much as possible.
Re-usability – Something as simple as not printing dates on signage can mean that an exhibit can be easily reused from year-to-year. Modularity is great too, allowing for not only flexibility in use but also the replacement of individual pieces over time.
Energy Efficiency – When it comes to electronics such as audio and visual equipment, things change rapidly, including factors like energy efficiency. Case in point: projectors. With LED lighting technology drastically improving and reducing in cost over the past few years, LEDs are a no-brainer now. Not only are they much more energy efficient, they are significantly less expensive to operate over their lifetime (i.e. lower cost of energy and far fewer bulb changes).
The point is that many people in the event industry have good intentions when it comes to social responsibility and the environment. The only thing holding them back much of the time is a lack of good information on the topic or the right kind of push to do something about it. By sharing this type of information with your exhibitors, you may be giving them the encouragement they need to go ahead and design their exhibits in a more sustainable manner.
Receive our Ninja Wisdom
Always studying our craft, we ninjas are tirelessly writing about sustainable events. Join our mailing list and learn from us, young grasshopper!