Working with the MIT Sustainability Summit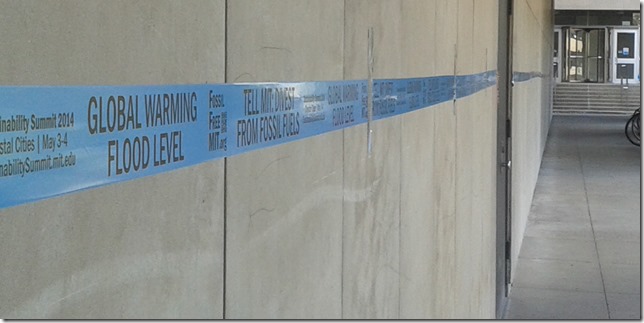 We've been busy bees over here at Green Event Ninjas (couldn't think of a good ninja pun there). I've just returned from a trip to Cambridge, Massachusetts, where I attended the MIT Sustainability Summit. I was invited to attend because Green Event Ninjas had worked with the summit's leadership team to plan the event itself in a more sustainable manner.
To this end, I can confidently say, they did very well. The event achieved zero-waste, in that none of the solid waste that the event generated was sent to a landfill. This waste was primarily in the form of food and beverage, which they served entirely on compostable plates, cutlery, and cups (the venue was equipped with organics receptacles that allowed this waste to be diverted properly). The solid waste also included communications and marketing materials, much of which was offset by utilizing the audio-visual resources that the venue offered, and the remaining materials being recyclable. Participants were also asked to return their nametags and lanyards at the end of the event so that they could be reused in the future.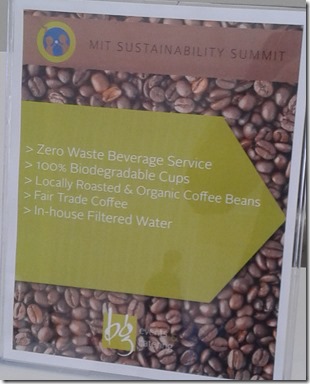 Another positive result achieved by the organizers was the reduction of the total amount of carbon emitted by participants. Often overlooked but especially important, travel to and from an event venue contributes significantly to an event's overall carbon footprint. Therefore, a venue that is close to public modes of transportation, or arranges for attendees to carpool or catch a shuttle, is likely to have less of an impact in this regard. The MIT Sustainability Summit was held on campus at MIT Media Lab, which is located in close proximity to a popular subway station. This allowed participants from across Cambridge, Boston, and the greater region to travel to the event via public transportation. The organizers went further still by actively encouraging participants to do so in communications sent out prior to the event.
There is certainly room for improvement going forward but that is the nature of event sustainability. As the old proverb goes, it's the journey, not the destination, that matters. The MIT Sustainability Summit is demonstrating its commitment to planning its annual event in a more sustainable manner and we can certainly be encouraged by this.
Receive our Ninja Wisdom
Always studying our craft, we ninjas are tirelessly writing about sustainable events. Join our mailing list and learn from us, young grasshopper!