ICAO Green Meetings Calculator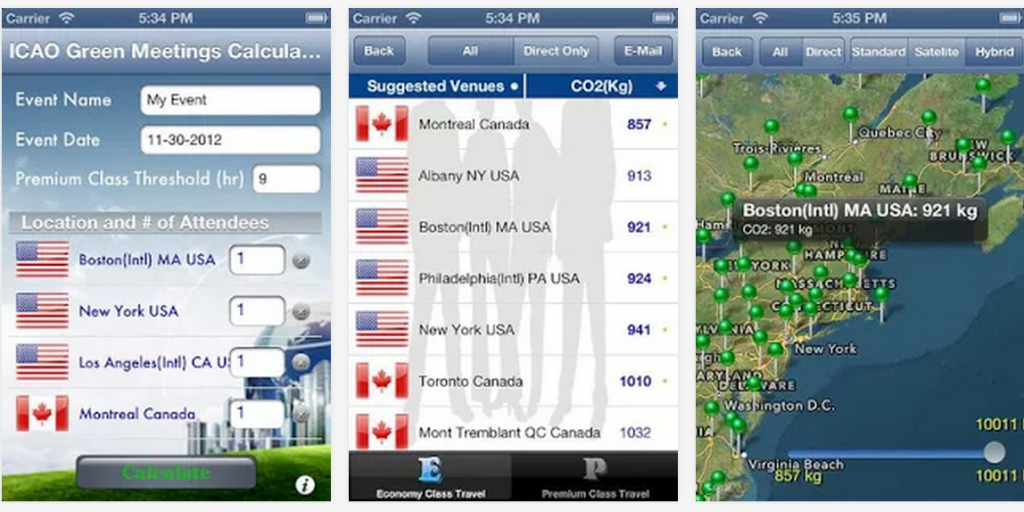 Now THIS is an exceptionally great piece of green meeting tech.
Have you ever looked at a meeting roster that has attendees flying in from cities across the country or the globe, and wondered whether a better city could have been chosen to reduce all that impact from air travel? Enter the ICAO Green Meetings Calculator.
The ICAO Green Meetings Calculator is a clever little tool that evaluates destinations based on the air travel CO2 emissions of attendees. After you input the cities of origin for your attendees (by name or airport code), the calculator identifies an optimal meeting location, or city, to host the event. It actually lists a few cities to choose from, displaying the aggregate carbon footprint from air travel next to each one.
There are a couple other features too. For one, the cities it lists will all be accessible by a direct or one-stop connecting flight. It also lets you differentiate between Economy or "Premium" modes of air travel, the latter of which naturally has a higher carbon impact.
The app was produced by the International Civil Aviation Organization (ICAO) and is available for Andriod devices here, for iPhones here, and your Windows XP computer here. They have even included a handy little user guide here. Did I mention it's free?
Is it as good as it sounds?
I tested the app myself and it was great. The user interface of the Android app was smooth and it flawlessly calculated my optimal destinations. The Windows desktop app worked well to, allowing you to export your results to Excel.
The only downside was the need to input the cities of origin manually. It would be nice to be able to import an Excel sheet with all the pertinent contact information (like something you might get from Eventbrite). Regardless, if you're dedicated enough to green meetings, it shouldn't be too much of a hurdle to keep you from putting in a sample of your attendees, at the very least,
So while there are apt to be many factors affecting your decision for where to host an event, the ICAO Green Meetings Calculator will help with the decision-making on the environmental front. Green meetings have never been so easy!
Receive our Ninja Wisdom
Always studying our craft, we ninjas are tirelessly writing about sustainable events. Join our mailing list and learn from us, young grasshopper!