Sustainable Event Tip #12 – Hotels within Walking Distance of Venue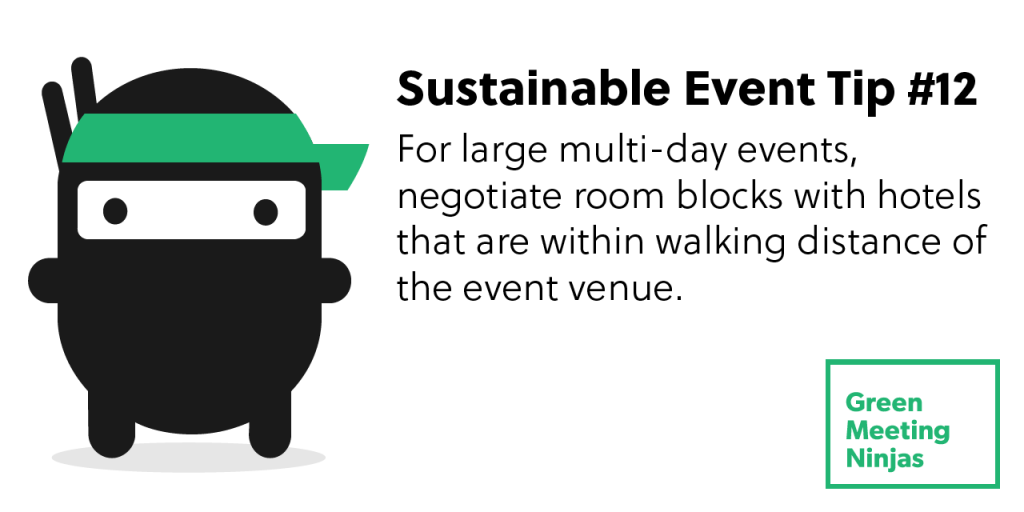 Green event ideas do not have to be very difficult to put into action. On the contrary, you may already be doing some of them without even thinking of it. For instance, when you're planning a large multi-day event, you're already going to be booking room blocks at local hotels. And if you're hosting your event in a city center (as opposed to the suburbs), odds are that you're already choosing a hotel or two that are within walking distance of the venue. This, in itself, is an act of green event planning.
When your attendees can walk to and from their accommodations with ease, it eliminates the potential carbon emissions from people travelling by taxis or rental cars. In terms of a conference with a few hundred or even a few thousand attendees, that carbon footprint can really add up.
So while this single act should only be a small piece of a much larger sustainability effort, the simplicity of this green meeting idea is meant to emphasize that green events are not always complicated or more difficult. Indeed, you can have a very big impact by making a small consideration like this, while completing a task that you're already going to be doing anyways.
Receive our Ninja Wisdom
Always studying our craft, we ninjas are tirelessly writing about sustainable events. Join our mailing list and learn from us, young grasshopper!