A Revealing Look at the Carbon Footprint of an Event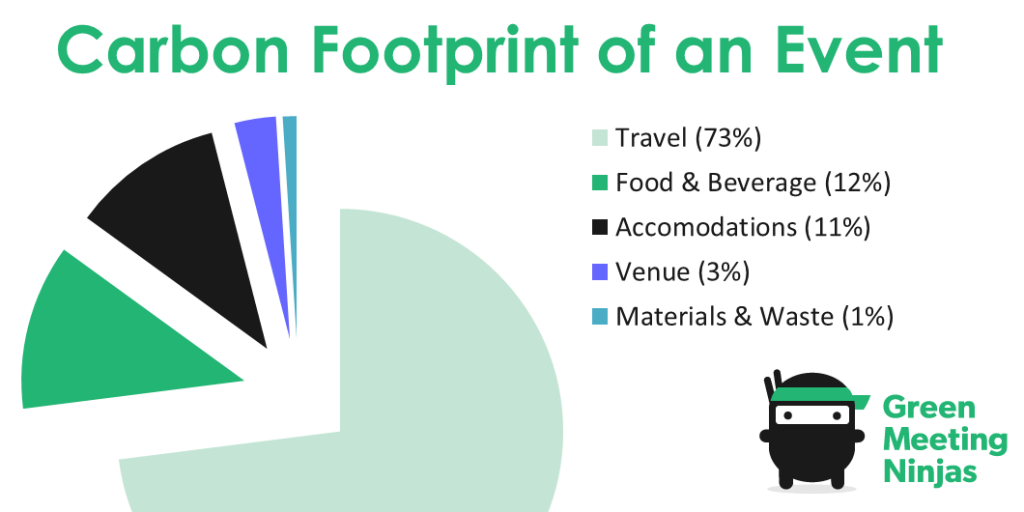 In 2011, a University of British Columbia (UBC) study took a comprehensive carbon footprint (a Scope 3 assessment for the carbon accounting diehards out there) of a basketball game held on campus between the UBC Thunderbirds and the visiting Thompson Rivers University's Wolf Pack.
The basketball game attracted 560 spectators that arrived largely by car. The visiting team had an approximately 400 km bus trip to and from the game. Here are the findings: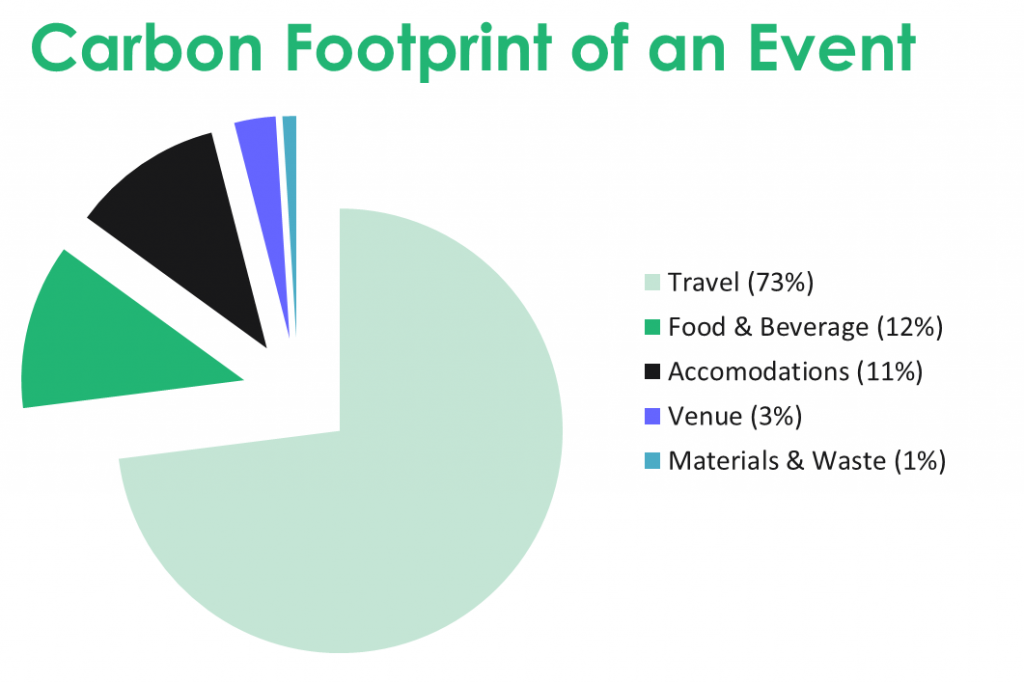 The results of the footprint are very revealing of an event's actual, though commonly misunderstood, environmental impact. As you can see, the travel of attendees (in this case, players and spectators) to and from the venue represents a whopping 73% of the event's total carbon footprint. Food and beverage (12%) and overnight accommodations (11%) represent the other major areas of impact. The remaining areas– venue, and materials/waste – represent a relatively minor 4% of the event's total carbon footprint.
Focusing "green" efforts in the wrong area
The significance of these findings, in my opinion, is that many in the "green events" sphere tend to focus on those final two areas of impact – venue and materials/waste – while the true impact of an event lies elsewhere (we're not entirely innocent of it at times either). If one were to come to the reasonable conclusion that the one of the most pressing issues facing our civilization is climate change, then it would appear that we're focusing our green event planning efforts on the wrong areas.
Now, consider that this example represents a relatively small event. There are only 560 spectators at this game. Imagine a large NBA basketball game or NHL hockey game with 15,000+ spectators, a large NFL football game with 60,000+ spectators, or a large multi-day conference where delegates are flying in from across North America. The carbon footprint from travel at these events would be substantially higher than this UBC example.
If at either one of these hypothetical events, the planners chose to focus on encouraging attendees to take alternative modes of transportation (like carpooling, train, or other forms of public transit), then the events' overall carbon footprints could be greatly reduced.
Encouraging the most sustainable modes of travel
To illustrate this point further, take my experience at a conference that I spoke at recently. The conference was in 
Montréal, Canada
. I live in Toronto, Canada and the organizers offered to pay for my transportation to and from Montréal, whether I chose to travel by air or train. So before making a decision, I ran the calculations:
A short haul round-trip flight from Toronto to Montréal = 0.20 tonnes CO2e emissions
A round-trip journey on Via Rail from Toronto to Montréal = 0.06 tonnes CO2e emissions
The carbon emissions from rail travel were significantly less than air travel, so I chose that option. Furthermore, it cost the organizers less and I was able to complete some work during the trip using the train's complimentary WiFi. Plus, I had so much leg room!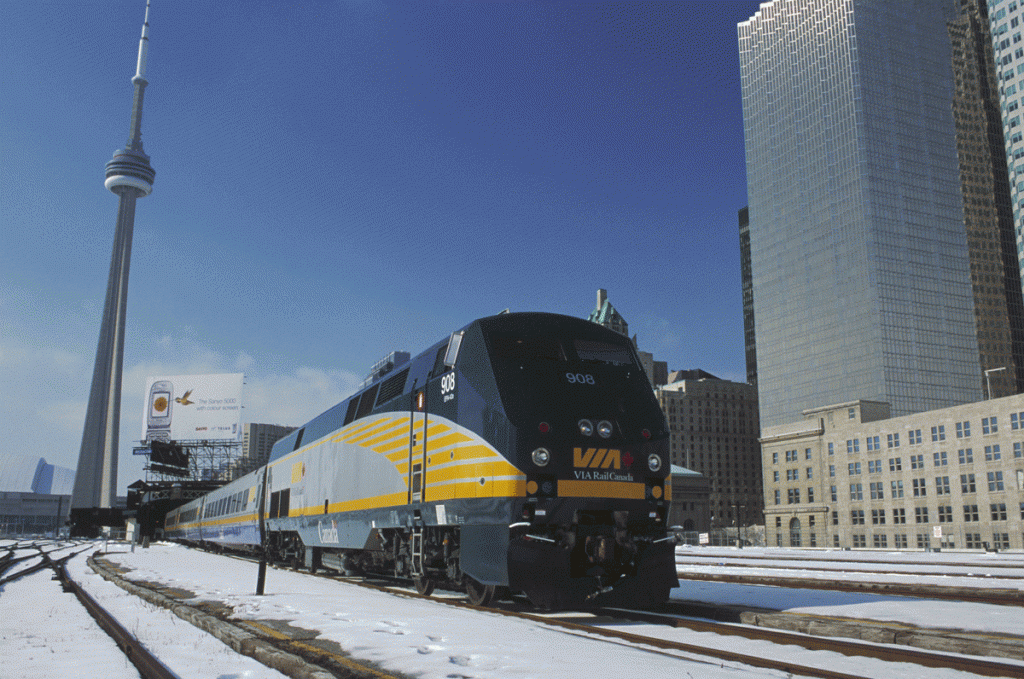 Clearly I'm a fan of rail travel, right? Of course I am, however there's plenty of insight for event planners to take from this too. For one, it cost less (significantly less) than flying. What if as an incentive to take the train, the planners had offered to upgrade me to Business Class on VIA Rail? That would have still been less than flying in Economy Class by air and I get to enjoy a far more comfortable travel experience. The event planner can quantify that kind of impact too, by saying something along the lines of, "we avoided XX tonnes of potential CO2 emissions by encouraging our speakers to travel by rail over air."
They could have also chosen not to invite me to speak in the first place and instead gone with only Montréal-based speakers. With travel contributing so much to an event's overall carbon footprint, that could have been an explicitly sustainable decision to reduce their overall impact.
Simple decisions can have considerable impact
The next two major areas of impact – food and beverage, and overnight accommodations – can be addressed in relatively simple ways too. Choosing a hotel that has a respectable "green" program in place, for instance, will help you reduce your event's impact in that regard (look to the Green Key Eco-Rating Program or other industry certifications for guidance).
In terms of food and beverage, it's all about what kind of food you're choosing and where it's coming from. For instance, different types of meat have inherently different carbon footprints. Beef is the worst culprit in terms of carbon. Chicken would be a better choice, though still not much better. Better still would be some MSC Certified Sustainable Seafood like oysters.
Choosing local (and seasonal) food is helpful too. In other words, try to refrain from going with the tropical fruit platter unless, of course, you're in the tropics! Instead, try to source local fruit and vegetables that are in season. It may cost a little bit more (not always though) but it will definitely taste better.
While you're at it, consider sourcing your beer, wine and spirits locally too. There are craft breweries, wineries and distilleries popping up everywhere nowadays, so it shouldn't be very difficult to find a couple to your liking. Not only are you making an environmental decision, in this way, but you're supporting the local economy.
Advancing the green event planning conversation
The point of this post is to emphasize that the kind strategies commonly touted as "green" initiatives at events (e.g. paperless registration, water bottle bans, etc.) may actually do very little to affect an event's overall impact, especially in regards to its carbon footprint. It's time that we move the conversation beyond these common misconceptions towards a more fact-based understanding of event sustainability.
I challenge you to take this carbon footprint perspective of an event into account when you plan your next event. As you can see, a few relatively small decisions can have a considerable impact.
Receive our Ninja Wisdom
Always studying our craft, we ninjas are tirelessly writing about sustainable events. Join our mailing list and learn from us, young grasshopper!