Sustainable Event Tip #23 – Choose a Certified Green Building as a Venue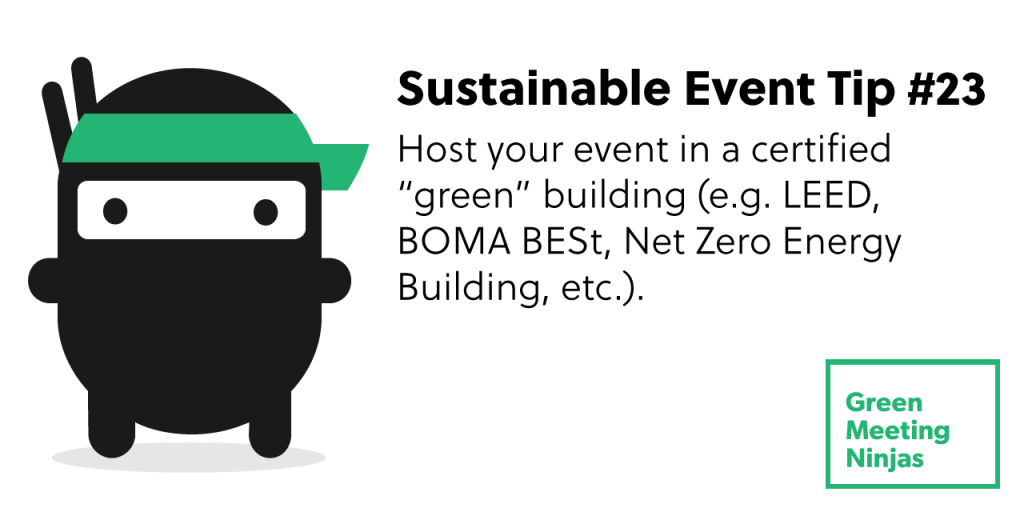 You have probably heard of LEED, the green building certification, before (e.g. "LEED Gold" or "LEED Platinum" ratings) but there are several other green building standards too, like BOMA BEST, Green Globes, Living Building Challenge / Net Zero Energy Building, BREEAM, etc.
One of the easiest ways to ensure that your event is a little bit greener is to choose a venue that is housed in a certified green building. This will ensure that the building has taken steps to be more energy efficient, manage waste more responsibly, etc.
This does not mean that the venue itself will be operating in a more sustainable manner, and you should still be doing your due diligence. For instance, if the venue is a tenant of a much larger building (like an office tower), then they may not be taking the steps required to take full advantage of the building's green features. However, if the venue owns the building outright, then the green building certification is probably a pretty good idea of how they operate.
Receive our Ninja Wisdom
Always studying our craft, we ninjas are tirelessly writing about sustainable events. Join our mailing list and learn from us, young grasshopper!