Sustainable Event Tip #4 – Sustainability Requirements in RFPs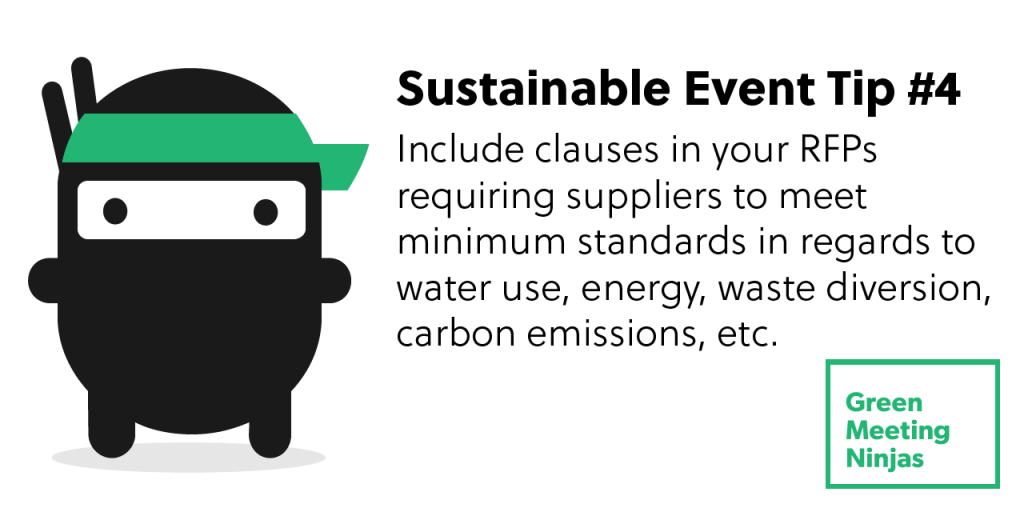 Your event is a direct reflection of its supply chain – the suppliers that you choose to make your event the spectacular success it is. Whether it's your venue, caterer, audio-visual, décor, accommodation, transportation, etc., by making responsible and informed purchasing decisions, you can greatly improve the sustainability of your event.
First off, you want to begin by choosing a shortlist of suppliers that, in general, operate in a more sustainable manner. Then, when fielding proposals from your shortlist of suppliers, clearly state your performance requirements related to sustainability. For larger events where you're going to be issuing formal RFPs, include the demand in there.
To give you an idea of what you can demand, you could require that the venue reduces lighting and HVAC use by 50% during setup and breakdown, and ensure that the appropriate recycling and organics waste receptacles are placed front-of-house during the event. You could require that the caterer serves all of the food and beverage with compostable containers, and that they arrange to donate any leftover food to a local charity. You could require that your transportation provider (e.g. a shuttle service from a hotel to the venue) uses only hybrid or electric vehicles.
The possibilities are endless. As the event organizer, if you place your requirements for sustainability upfront like this, you'll be greatly reducing the amount of time you need to devote to managing it over the course of the whole event.
Receive our Ninja Wisdom
Always studying our craft, we ninjas are tirelessly writing about sustainable events. Join our mailing list and learn from us, young grasshopper!