Sustainable Event Tip #5 – Venue Accessibility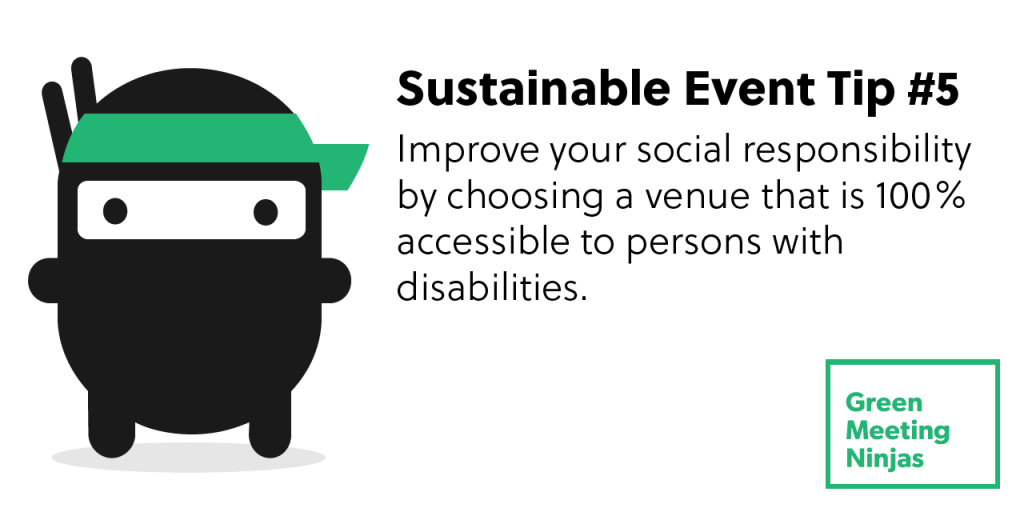 The first thing that comes to many people's minds when they hear the word "sustainability" is the environmental side of it – and only that. Like we described in another blog post, however, sustainability must equally consider the social and economic sides of an issue too. When it comes to the social responsibility of events, accessibility for persons with disabilities is particularly important.
An effective way to address this is to choose to hold your event at a venue that has taken proactive steps towards being accessible. The standards for accessibility have been rising in jurisdictions around the world, and while some venues have taken to this positively and have done a lot to improve their spaces, others have proven to be laggards on the issue. It's also helpful to note that while accessibility is commonly understood to relate to aspects of mobility, one should also consider it in terms of hearing, sight, and other issues.
To reiterate, event venues should be actively addressing the accessibility of their spaces in terms of:
Mobility (e.g. accessible toilets, wash areas, ramps, steps, and doorways)
Hearing (e.g. assistive listening systems)
Sight (e.g. large print/braille signage, sound systems to broadcast clear directions)
Other issues (e.g. a place to rest if the venue is far from the lodgings, proximity to local healthcare or assistance)
The list above is not exhaustive. What's important to take from this, however, is that accessibility is an indispensable prerequisite for social inclusion, which facilitates equal opportunity and diversity. A single step can deny entry to a room for a person using a wheelchair, or pose a serious safety hazard to someone with impaired vision. In terms of your event, not only is the virtue of fairness at stake, but your own reputation as an organizer may be too. By choosing a venue that is 100% accessible to persons with disabilities, you'll be doing a lot to manage your risk in this area.
Receive our Ninja Wisdom
Always studying our craft, we ninjas are tirelessly writing about sustainable events. Join our mailing list and learn from us, young grasshopper!