Sustainable Event Tip #6 – Sustainable Hotel Accommodations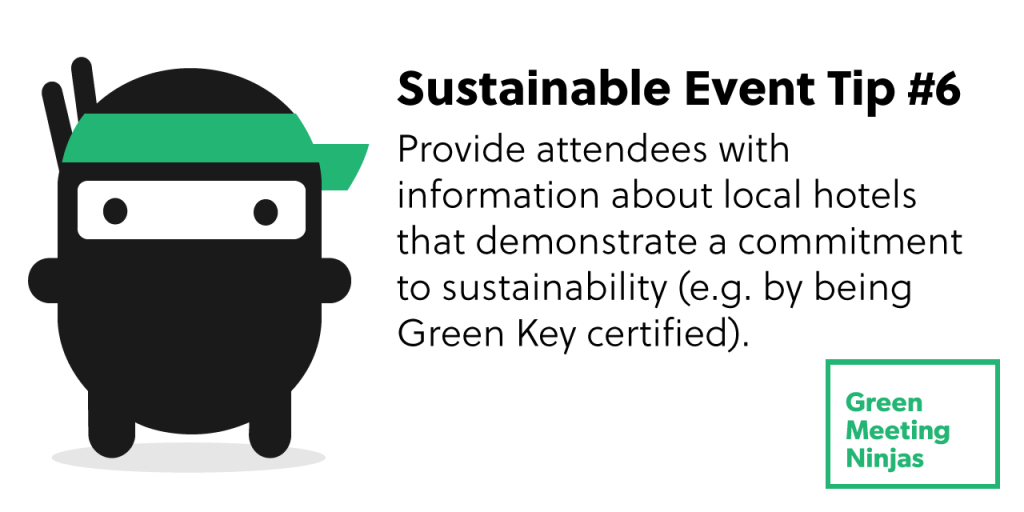 For multi-day conferences and conventions, or any large event where your guests will be travelling in from great distances, the sustainability merit of the hotels that they stay at will factor into the event's overall impact. As an organizer, you can address this by encouraging your guests to stay at hotels that demonstrate an explicit commitment to sustainability.
This is about so much more than the hotel asking you to reuse your towels! That's too simple. Rather, it's about the building and facilities, the in-house food and beverage being served, the cleaning products and procedures, the labor standards, etc.
An industry-led standard that does a great job of assessing the environmental side of this is the Green Key Eco-Rating Program – a graduated rating system designed to recognize hotels, motels, and resorts that are committed to improving their environmental and fiscal performance. It's a great resource to start with before moving onto other assessments like the APEX/ASTM standards, which include an insert dedicated to Accommodations.
Receive our Ninja Wisdom
Always studying our craft, we ninjas are tirelessly writing about sustainable events. Join our mailing list and learn from us, young grasshopper!