A Sustainable Convocation at Ryerson University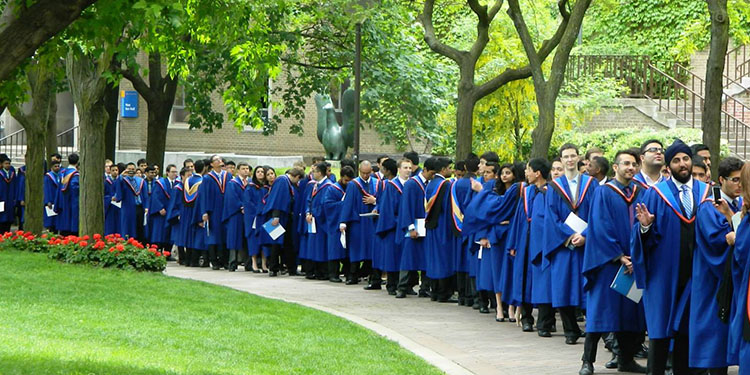 I personally never attended my Convocation. I can remember back to when it was time to confirm with the university whether you were going to attend or not, so I asked my mom whether she wanted me to go. "Oh I don't care James," she replied. "Do whatever you like." And so I checked the box to receive my degree in the mail. All was good until a few months later when everyone else's children began graduating. "James!" my mom began. "When is your Convocation? Why haven't you told us when it is?"
To say the least, she wasn't too happy and I learned the hard lesson of gaining my mom's full attention before asking her anything important. But alas! I'm finally attending Convocation! Ryerson University's Fall 2014 Convocation, to be precise. And while it's not exactly my graduating class (nor my alma mater), at least I get to experience the pomp and circumstance. Plus, I get to do some work behind the scenes, to make it more sustainable and to apply some of that education I should have been celebrating with my first Convocation.
So to make a long story short: Green Event Ninjas is working alongside Ryerson University over the next year to begin planning their Convocation ceremonies in a more sustainable manner. They have 2 convocation ceremonies over the year: their  Fall Convocation, which occurs over 2 days and boasts about 2000 participants and guests, and their Spring Convocation, which occurs over 13 days and boasts about 13,000 participants and guests. It's no small feat but we're beginning with the Fall Convocation to ease into things, tackle the proverbial low-hanging fruit, and test our ideas under less demanding conditions.
Our high-level goals for a Sustainable Convocation
Fall Convocation is taking place next week – October 15th and 16th, 2014 – and we're committed to realizing the following sustainability initiatives:
Zero Waste Food Services
100% Local, Seasonal, and Sustainable Food Service
Improved Solid Waste Management
Audio Visual Energy Efficiency
e-Ticketing and Paper-use Reduction
Time will tell whether we will succeed in meeting all of our objectives. Regardless, we'll definitely learn some valuable lessons that we can to carry through to the much larger spring activation.
Receive our Ninja Wisdom
Always studying our craft, we ninjas are tirelessly writing about sustainable events. Join our mailing list and learn from us, young grasshopper!