Sustainable Event Tip #15 – Choosing the Right Kind of Paper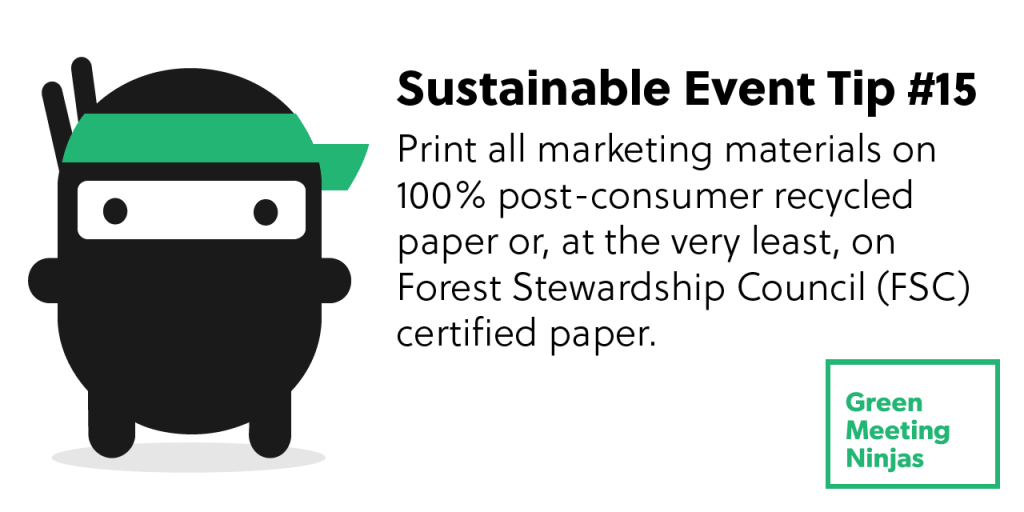 There appears to be a big shift in the events industry towards "going paperless" and we certainly think that's a great thing here at Green Event Ninjas. There are times, however, when printing is inevitable; when the need for hard-copy marketing materials and resources are critical to the success of your event.
In these circumstances, we advise that you pay attention to the materials you choose. In particular, the paper upon which you're printing. Ideally, you should be trying to print on 100% post-consumer recycled paper (there's an important difference between that and per-consumer, so be sure to make that distinction). When that option isn't available, for whatever reason, be sure to choose paper made from responsibly harvested forests. For this, look to certifications like the Forest Stewardship Council (FSC).
Pro Tip: Be sure to choose paper that is matte and non-glossy to allow for better recycling, as glossy paper can eliminate the paper's recyclability.
Receive our Ninja Wisdom
Always studying our craft, we ninjas are tirelessly writing about sustainable events. Join our mailing list and learn from us, young grasshopper!